Carousel.nyc sells for $7,000
I originally posted back in July about my 4 year .nyc domain investing experience and recently followed up that article with news of 4 more .nyc domain sales that took me over the $20,000 sales mark.
There was one sale however, that pushed me over the break even line and that was carousel.nyc which completed just a few weeks ago for $7,000.
Up until recently my biggest .nyc domain sales were $3,000 (x 2 sales) and $3,090 so it was nice to exceed those with this sale. Maybe there's time for one more big sale before the year's up!
I received an email about this domain about a month ago from a gmail account with no history and so I was intrigued about who it may be interested. After a couple of emails they said that they had decided to go in a different direction – so we both moved on.
Fast forward a few weeks later and I received an email from Afternic congratulating me on the sale of carousel.nyc. I was excited but also nervous because of only one other domain sale through Afternic coming after a pricing mishap – I'd listed a domain there for $360 and netted $288 after that sale.
I anxiously logged in to Afternic and noticed that I had listed carousel.nyc for $7,000 and netted $5,700 after their commission (20% on the first $5,000 and 15% on amounts above this).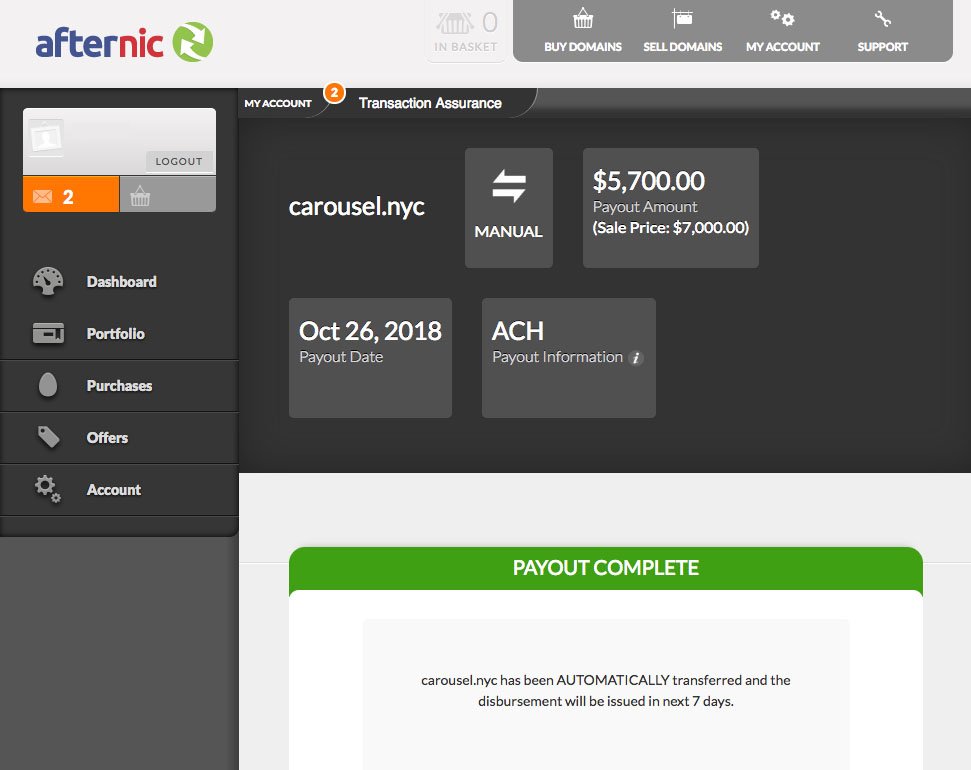 This sale gives me extra confidence that the .NYC domainspace is thriving. Businesses are valuing these domains well and aftermarket sales are happening – mostly quietly as other people in this arena prefer not to promote their sales.
Afternic's $1,300 commission on a $7,000 domain sale (or even their $72 commission on my only other sale with them of $360) did hurt a little, but they facilitated the sale. Listing your domain names with Afternic.com get more eyes on your domains especially through their partnership with GoDaddy to get premium domains owned by investors to the top of GoDaddy's search page. Take a look at the screenshot below which shows my domain rink.nyc which is listed at Afternic and how it looks when someone searches for this domain at GoDaddy.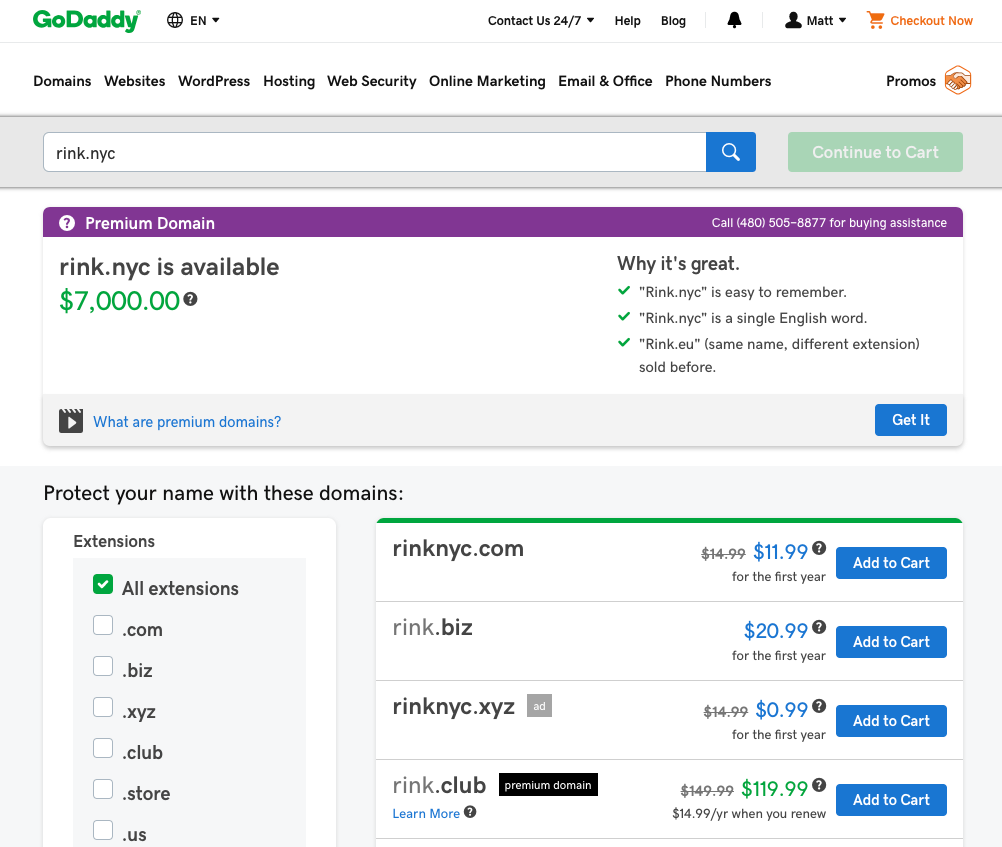 I expect that whoever purchased carousel.nyc did so after a search at GoDaddy. They then completed the sale by clicking through.
Buy now prices sometimes are not favored by domain sellers because of the thought of leaving money on the table, after I've made a few sales like this (with a buy now on an Efty or Undeveloped page) I think they may improve overall sales success.
Could I have negotiated this domain beyond $7,000? I'm not sure. Would I have frustrated the buyer if I tried? Maybe.
Thinking more broadly about the implications of this sale
$7,000 for a generic one word .nyc domain is not only another positive signal of .nyc domain strength 4 years after the TLD launched, but it's further evidence that solid one word .nyc domains hold value.
The strength of "carousel" could be debated, I really like it, but have others I prefer and there are many others out there waiting to be registered.
Would love to hear your thoughts on this domain sale and the NYC domainspace. Please leave your comments below.