Voting Now Open – .NYC Best of Boroughs Contest
On 9/13 .NYC's Best of Boroughs Contest opened and called on all businesses, organizations, community members and individuals with a .NYC website to share their story and compete for bragging rights within their borough.
As of 12am on 9/20 the submission deadline closed and the small one week window garnered 79 submissions across Manhattan, Brooklyn, Queens, the Bronx and Staten Island – take a look.
So far leading Manhattan in the community category is the 100 Gates Project (100gates.nyc) with 88 votes.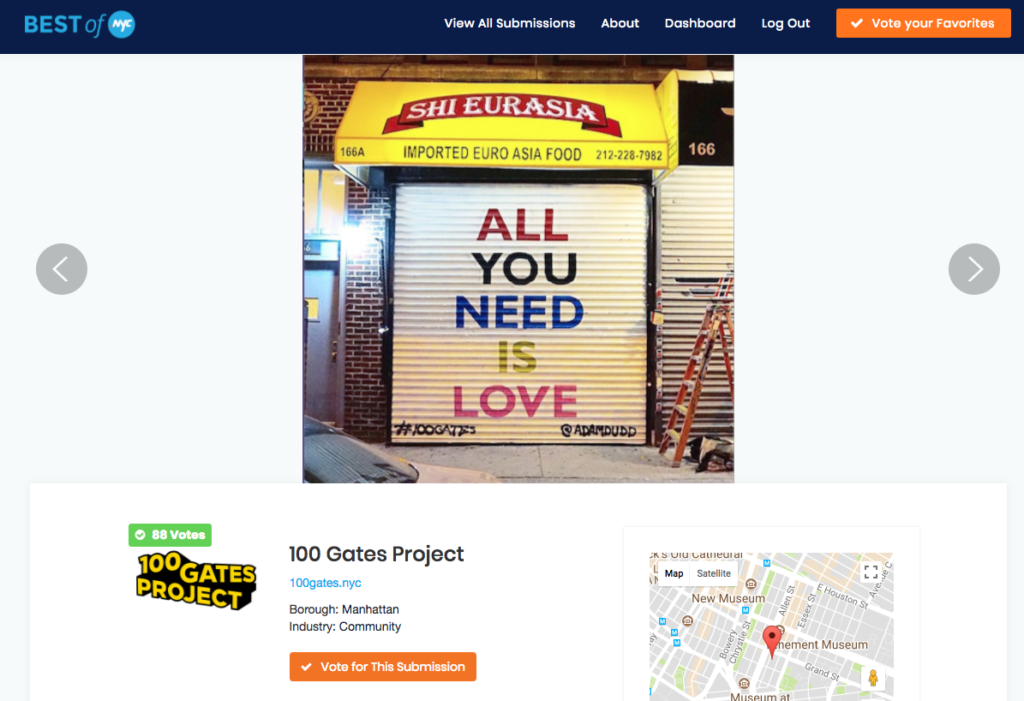 It's interesting to see such a diverse group of entrants across all boroughs.
As part of the 2020studio.nyc's entry, they stated:
I wanted the entire world to immediately know firsthand that this company was right in the thick of things: Directly right in the Universal Mecca of the Creative World by having a .nyc web address.
In answering, "What inspired you to make this website or entity?" LuckyHoney.nyc responded:
As a pilates instructor and production fit model in NYC, I saw a huge opportunity for a more fashion focused grippy sock to wear in your studio workouts such as pilates, yoga, barre and dance. With NYC being such a huge part of my inspiration and the mecca of fashion world-wide, I decided there was no better choice then to go with .nyc as I am so proud to have founded and grown this business in our great city!
There are many more stories and reasons .NYC owners gave for building on a .NYC domain and so the entrants are definitely worth a look, and a vote if you deem them worthy!
If you are interested in voting do so now before the voting window closes.
Here are the next phases of the contest
Public Voting Opens: 9/21 @12pm
Public Voting Closes: 9/26 @12am
Winner Publicly Announced: 10/16
As for if a contest like this helps promote a cityTLD – I think it does as long as the message gets out there to the wider local community. I didn't see any news of this on NY1 or on the radio at WNYC but I think it's interesting and newsworthy.
Stay tuned for an update on the winners!