Food and Health Related Names on .NYC Domains – Why I love them.
The start of a new year is an exciting time – especially for domain investors. For me, there's a power in the crispness of a new year that makes it impossible to procrastinate the task of regrouping, reflecting and refocusing the strategy.
In reality December 31st is when start this work as it's important to be deliberate in which tax year the renewal expenses are incurred.
I knew all my domains were renewed until at least the end of the year, but that meant that some needed attention in January so I got straight to my Excel file to begin the mission of auditing my domains, renewing and transferring them. Also making sure that the names I wanted to sell were listed at Afternic and Efty (and that I had updated the nameservers to point at Efty).
Many of my .NYC domain names fall into clear categories: 3 character acronyms, names, products, services, activities, education, health and food.
After getting my Excel file updated with expiry dates, registrars, nameservers, website status and other geeky details, two categories stood out to me – food and health related domains.
Here's a sample of my food related NYC domain names
| | |
| --- | --- |
| N | Domain |
| 1 | barbecue.nyc |
| 2 | chopsticks.nyc |
| 3 | clams.nyc |
| 4 | cones.nyc |
| 5 | creperie.nyc |
| 6 | ices.nyc |
| 7 | milkshakes.nyc |
| 8 | tonic.nyc |
| 9 | cakes.nyc |
| 10 | chew.nyc |
| 11 | crepes.nyc |
| 12 | nachos.nyc |
| 13 | oysters.nyc |
| 14 | pancake.nyc |
| 15 | pancakes.nyc |
| 16 | pretzels.nyc |
| 17 | shakes.nyc |
| 18 | snacks.nyc |
| 19 | sprinkles.nyc |
| 20 | sushibar.nyc |
I love these domains so much! Perhaps more than I love food itself… But I'm wondering do any other domain investors look at these names and see what I see?
Here's what I see:
Premium generic domains
Domain names that go straight to your hunger or thirst – when you're hungry for nachos, seeing/saying/typing nachos.nyc (or "nachos nyc") makes you feel a little closer to the food and a little more confident that you're going to get what your body craves.
Domains that are made stronger, possibly brand-like with the addition of .nyc
Domain names that would perfectly complement and strengthen a brand (i.e. Mike's Tasty Cakes might do well with cakes.nyc as it's primary domain instead of mikestastycakes.com)
Keywords/phrases that may be googled and may result in a higher search engine ranking (either now or in future)
Domain names that are memorable and command customer respect
Domain names that make me want to start a business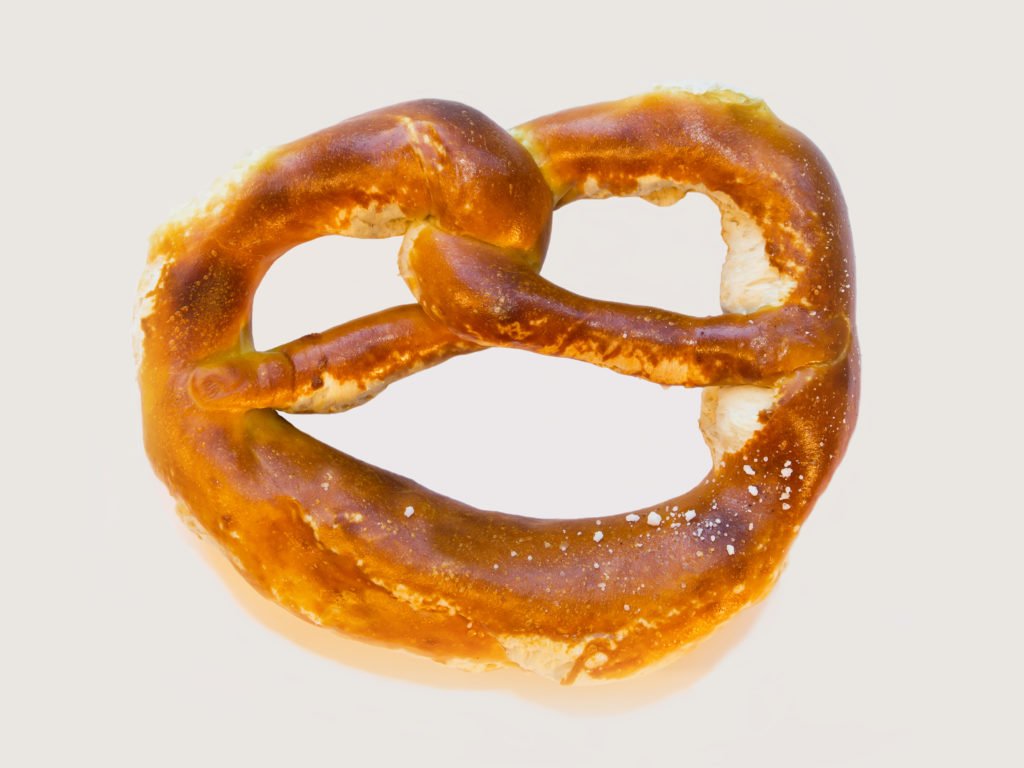 I'm serious about the last item on the list above. When I think about pretzels.nyc I really want to learn how to make pretzels, maybe make a YouTube channel dedicated to pretzels – showing people how to make pretzels with different ingredients to produce amazing flavors. Maybe I'll research where they're sold/distributed, even buy myself a cart like the one I illustrated in the logo for kids.nyc anyways I digress a little.
To bring it back to a point, a great domain name can improve our self-efficacy which by definition means improving our sense of our own ability to succeed in a goal. While that may seem fluffy, I think there's a huge value there that domain buyers and sellers often don't highlight – but it's real. Start a business with cakes.nyc and you have some wind behind your sales. You have an invisible hand guiding you and you can and will do it. You will have to work hard, but you have a domain people respect that has a punch and you cannot and will not let the business fail!
mikestastycakes.nyc doesn't carry that same expectation of you that cakes.nyc does, nor does mikestastycakes.com or tastycakes.com. Cakes.com does carry that same expection but there are two considerations (1) cakes.com would be a $100k-$500k domain name and (2) cakes.com is too global/national – which is great if you're a global/national business.
If the likely reality is you're a NYC based bakery – cakes.nyc has the power of local, being memorable, the premium generic keyword + ".nyc" brand magic and the steroid shot to the arm that tells you you have to succeed – because you are cakes.nyc (and if you don't succeed then you are a bigger failure than you thought because how could you fail with a domain like cakes.nyc – so don't fail!)
Now my point works for other domains on the food list and even other names/businesses outside of the food industry. When building a new business people may say that the name, logo, packaging are less important than the quality of the product/service you're offering and arguable that's true, but you still want to feel as though you are building something perfect that you can be 100% proud of, plus the name/logo/packaging are the first things your customers see before they get to experience the quality.
It's something I've been thinking about a lot, but haven't voiced (or typed) until today.
Here's a sample of my health related NYC domain names
| | |
| --- | --- |
| N | Domain |
| 1 | activities.nyc |
| 2 | addict.nyc |
| 3 | diagnostics.nyc |
| 4 | flushot.nyc |
| 5 | accidentlawyer.nyc |
| 6 | accidents.nyc |
| 7 | hemorrhoid.nyc |
| 8 | hemorrhoids.nyc |
| 9 | herpes.nyc |
| 10 | orthopaedist.nyc |
| 11 | orthopedist.nyc |
| 12 | standupmri.nyc |
| 13 | beautyspa.nyc |
| 14 | critter.nyc |
| 15 | critters.nyc |
| 16 | cryo.nyc |
| 17 | endoscopy.nyc |
| 18 | exterminators.nyc |
| 19 | footdoctor.nyc |
| 20 | gynecologist.nyc |
| 21 | lice.nyc |
| 22 | mri.nyc |
| 23 | nofault.nyc |
| 24 | pediatricassociates.nyc |
| 25 | personaltrainers.nyc |
| 26 | pests.nyc |
| 27 | psychics.nyc |
| 28 | quit.nyc |
| 29 | spin.nyc |
| 30 | spraytan.nyc |
| 31 | tinnitus.nyc |
| 32 | victim.nyc |
| 33 | vitamins.nyc |
So whereas the food related names get you closer to satisfying your hunger, I feel the health related domains above are powerful because they get you one step closer to resolving your health issue – and the domain name gives you confidence that the service on the other end will help solve you're issue.
All the same benefits bullet pointed above still hold for these names but if you suffer from hemorrhoids and you need relief, and you come across the website hemorrhoids.nyc you don't think, "They may be able to help" you know they will be able to help.
Likewise (and easier to spell), herpes.nyc and lice.nyc instill you with immediate confidence that these folks are local and they know what they're doing – Goodbye herpes and goodbye lice.
In summary, if you're a business in NYC and you haven't taken advantage of your nexus with the city to acquire your .nyc domain name then you are missing out on presenting yourself as a local authority in your industry whether that's food, health or any other sector.
If you have taken advantage and are using a .nyc would be great to see hear about you – please post in the comments.