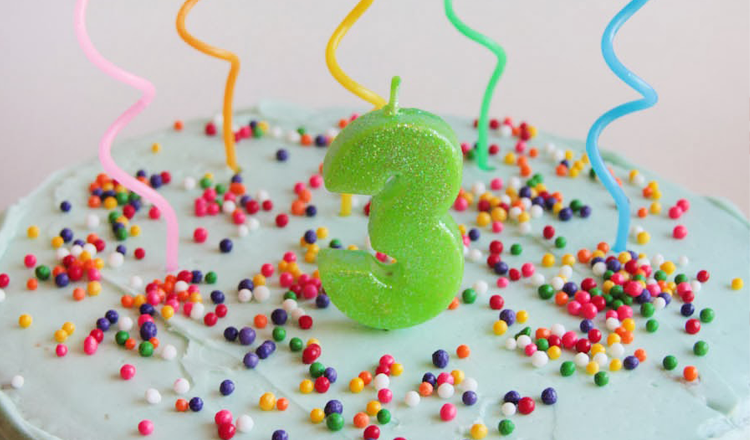 The NYC Top Level Domain (TLD) will be three years old this October. Its precise birth date is at first unclear due to the NYC launch schedule.
"General Availability" (where anyone who attempted to register an available domain was successful) was on October 8th 2014 but for many early NYC domain registrants, the two step "Landrush Period" would be the date to celebrate.
The two steps of the Landrush Period were:
August 4th to October 3rd 2014: Depending on registrar, registrants had to pay $70-100 for the Landrush application and keep their fingers crossed that no one else applied for the same domain during this period. If no second applicant the domain was theirs on October 3rd 2014
If a second person applied for the same domain, an auction would be conducted during one of three rounds depending on the first letter of the domain name:

A – I: October 23 – 27, 2014
J – R: October 28 – 31, 2014
S – Z: November 3 – 6, 2014
Before General Availability (Phase 4) and Landrush (Phase 3) periods, there was the City Government-Affiliated period (June 25th to July 31st, 2014 – Phase 2) and the Trademark Sunrise period (May 5th to June 20th, 2014 – Phase 1). As an aside, let's not forget the NYC Founders Program where a select group of people/organizations (less than 50) applied and were selected (before July 15th 2017) to be the vanguards, developing sites and effectively using their reach to promote the TLD.
Finally, many may consider the date of the first .NYC domain registration as .NYC's official birth date and that would be August 9th 2013. The first domain name was "nic.nyc" and was created by Neustar who manage the TLD. The next registrations happened on June 20th 2014 (yelp.nyc, applestore.nyc and iheart.nyc who all tied for second place and just one second before priceline.nyc and linkedin.nyc entered the zone).
If you're interested here's the first ten: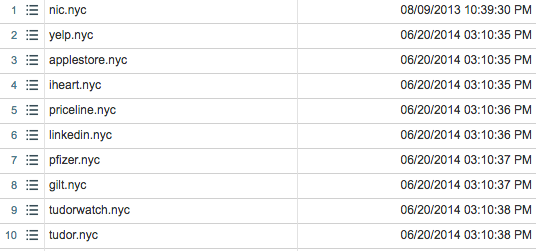 Whenever the date, Happy Birthday .NYC ! Although I'll leave my full thoughts on .NYC's progress and development over the last three years for another blog post (or check out this from two weeks ago 'The State of .City Domain Names – Is .NYC on Top?'), I think overall .NYC has grown up a lot. In terms of registrations they've been quite stable around 75,000 domains, there's a growing number of NYC domains developed, in use and marketed across the city and there have been some significant sales of NYC domains.
When do you consider is the date that .NYC turns 3? What was the date you first registered a .NYC domain and how well do you think the namespace is growing? Please share your thoughts in the comments below.