NYC Travel Domain Auction – Opens May 3, 2018
Following on from the success of the real estate, fashion and technology themed NYC domain auctions, Neustar and the City of New York are preparing to roll out the premium NYC travel domain auction in their fourth themed auction on on May 3rd.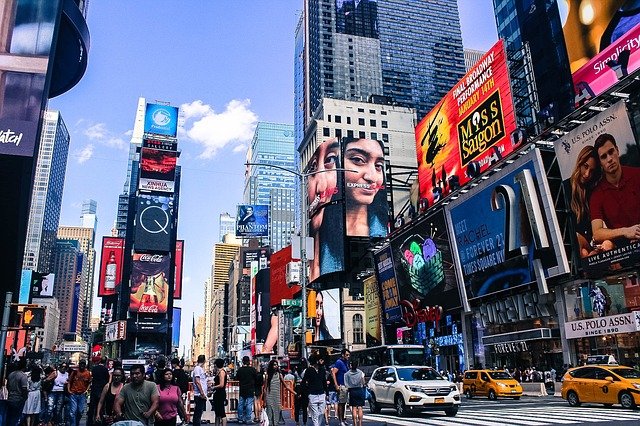 "I can think of no more fitting tribute to kick off the summer travel season than with these travel-related web addresses," said Nicolai Bezsonoff, General Manager, Registry Solutions, Neustar.

"Reaching those in-market travelers with a unique domain that signals they've reached a legitimate travel business based in New York will go a long way to engender the kind of brand trust that will keep customers coming back again, and again."
Businesses, organizations and people who live and work in five boroughs of New York City are all able to participate in the NYC travel domain auction. The auctions open at 1pm EST on May 3rd and the auction concludes at 1pm on May 10th, 2018. Bids in the final stages of the auction may extend the auction by 10 minutes to prevent sniping. Previous auctions have taken place at NameJet and SnapNames but this time Neustar have decided to move the platform to Sedo. Please keep track of all the details including how to register to bid at Neustars official auction website, Auctions.nyc.
These specially curated list of premium domains are rare and definitely worth a look.
Here's the list:
| | | |
| --- | --- | --- |
| boattour.nyc | guides.nyc | shows.nyc |
| boutiquehotel.nyc | hotelguide.nyc | showtickets.nyc |
| broadwaytickets.nyc | limos.nyc | shuttle.nyc |
| bustour.nyc | lodging.nyc | sightsee.nyc |
| carrental.nyc | museum.nyc | theaters.nyc |
| citytours.nyc | pedicabs.nyc | ticketbroker.nyc |
| concierge.nyc | reservation.nyc | tour.nyc |
| flights.nyc | see.nyc | visiting.nyc |
| getaways.nyc | | |
As history has shown, the premium auctions are a mixed bag in terms of the price at which they sell for. Here's a small sample of sales prices to show the range and bargains to sometimes be had: shop.nyc – $33,500, realestate.nyc – $21,300, web.nyc – $8,638, startup.nyc – $3,300, condos.nyc – $4,600, deals.nyc – $4,100, webdesign.nyc – $550, rings.nyc – $500, salon.nyc – $500 and shoes.nyc – $500. Will the NYC travel domain auction offer any surprises? We'll have to wait and see.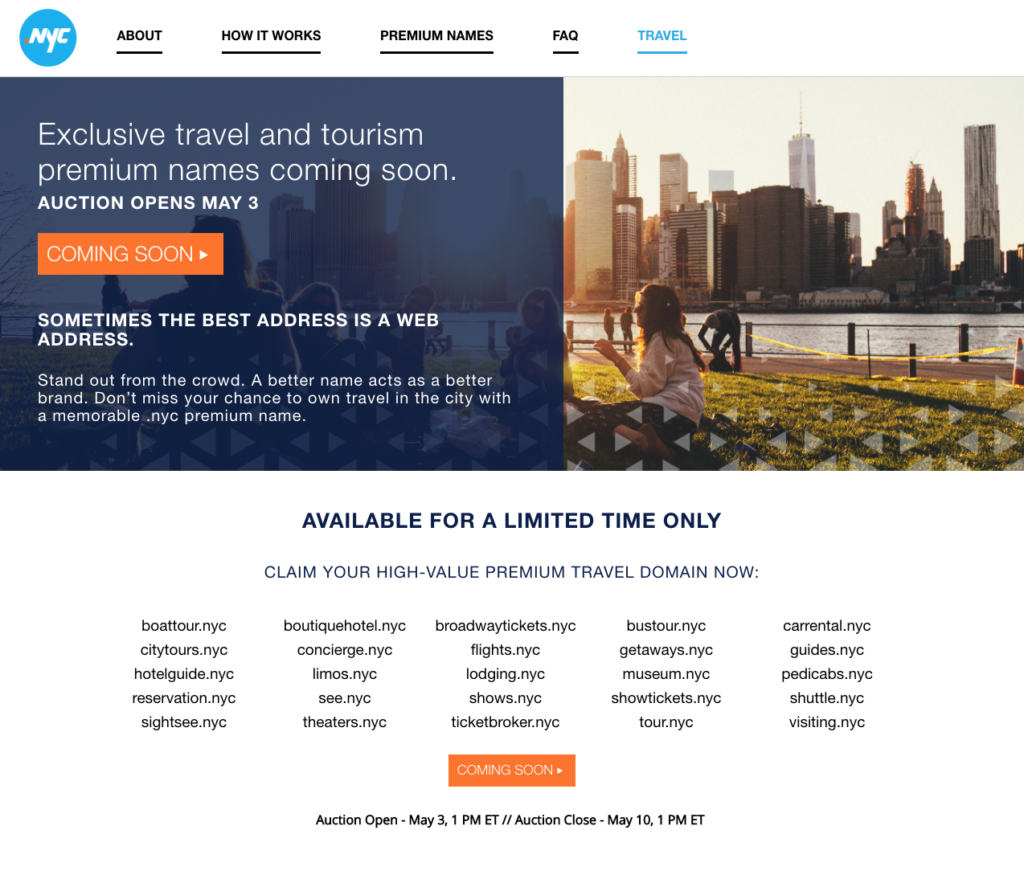 So don't delay. I've made your action plan for you:
Visit Auctions.nyc and look around, maybe sign up to their newsletter
Register at Sedo.com and verify your account so you're ready to go during the auction week
Set a calendar reminder for 5/3/18 at 1pm to view the start of the auction and check to see if any of the details have changed (domain list, auction site, rules)
Set a calendar reminder for 5/10/18 at noon so you're ready to assess if there are any valuable domains not receiving the bidding love they deserve and get ready to bid on them.
Visit the auctions often to see bidding levels. You may want to bid early with your maximum bid to avoid disappointment if you miss the end or have technical issues in the last hour.
Have fun!
Maybe you don't want to give details on which domains in the NYC travel domain auction you think are the most valuable if you plan on taking part in the auctions. If you have an opinion on which domain may sell for the most (or least), it would be great to hear your thoughts below.